Indented or Semi-Block Business Letter
Dixie would like to bring to your attention an indented (semi-block) business letter.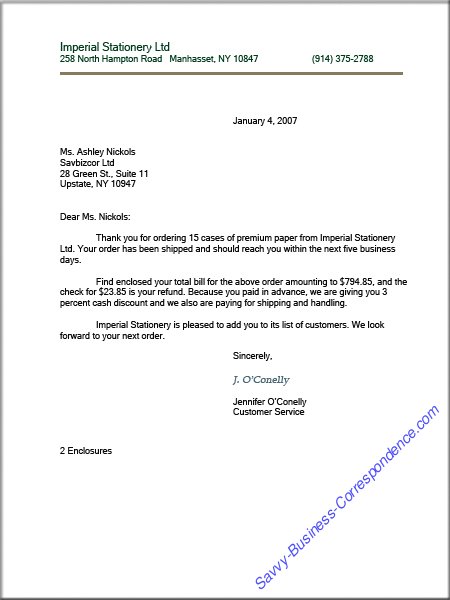 Can You Name All Business Letter Layouts?
In the above example you can see the last business letter layout out of the three possible ones. (Do you remember the other two? Dixie is really sure you do, but you still can find them in the links below just in case).
Dixie does not like repeating the same information on different pages too much, so she would like to remind you on this page that she has two other examples which in her opinion contain all the information on formatting business letters you need. You will find links to them below.
Indented Letter
The indented/semi-block style of business letters is very similar to the modified block and Dixie would suggest you follow the link above if you haven't been to her page about modified block business letter yet. The only difference between the two is that the semi-block letter's paragraphs are indented one tab stop.

Another page Dixie highly recommends to the first-time visitors of her site is full block business letter where she describes the major parts of a business letter.
Is the Indented Layout Outdated?
The indented layout of business letters is what people are most used to because this is how letters were written before PCs which really has been a long time, come to think of it.
In a lot of countries indenting paragraphs in a business letter is still a must, and Dixie would like to remind you again that on this website she mostly focuses on the US ways. And in the US the indented letter does look a little outdated.
On the other hand, a lot of companies still use it even in the US. Well, there are three layouts to choose from. And if you justify to yourself using this one, go for it.
An Example with a Letterhead at Last!
You probably have noticed that Dixie used the return/sender's address in her previous two examples of formatting business letters. She did it to show you proper format for the business letters written by individuals.
However, business to business letters are much more common, so on this page she decided to use a letterhead in the business letter example.
If you don't remember very well where you should put the return address in the rare case of not using a letterhead, just follow the links to the full block or modified block business letter layouts where Dixie explains in detail the position of the return address and shows you the examples.
Related Topics
full block business letter
modified block business letter