Are There Types of Business Memos?
This is not an easy question... Attempts have certainly been made to identify at least some memo types. Unfortunately, Dixie thinks they have not been very successful. The problem is, memos can be written on almost anything. How can you subdivide 'anything'?! Dixie wouldn't even try.
She has come across some memo classifications in her career, so Dixie lists for you below a few memo types. But even as she writes, she can think of some other types of business memos. She would almost think that there are as many memo types as memos themselves. This is really not a very big exaggeration!
You don't believe Dixie? See for yourself...
Some (Very General) Business Memo Types
Operational memos
Financial memos
Environmental memos
Announcements (policy change, meetings, etc.)
Request for action
Form memos
Cover memos
Directives
Response to an inquiry
Trip report
Dress code memos
This list can go on, but you get the idea. Some of these business memo types overlap, some other memo types cannot be squeezed into any of the above... So, you will have to decide yourself whether there really is any point in subdividing memos into types.
Memo to File(s)
This memo type Dixie wants to mention specifically. 'Memo to file', 'memo to files' or 'note to file' - you have probably come across one of these, they all actually mean the same thing. This type of memos can be quite unpleasant as it is often used to file a reprimand.
On the other hand, it is not always the case and a lot of such memos are used to describe protocol-specific methods of accomplishing a process, to clarify discrepancies, missing or inaccurate data or procedures, to record something that falls out of the ordinary regulations... If you want to see Dixie's point more clearly, go directly to a sample of a memo to files below.
Need a Memo Sample?
We all know that a picture is worth a thousand words, and you have probably already found out that in Dixie's opinion, samples are very important in helping you write good business correspondence. If you haven't yet seen the Letter Samples page, Dixie highly recommends you check it out for writing letters.
And on this page she offers you two memo samples, an announcement memo and a memo to files.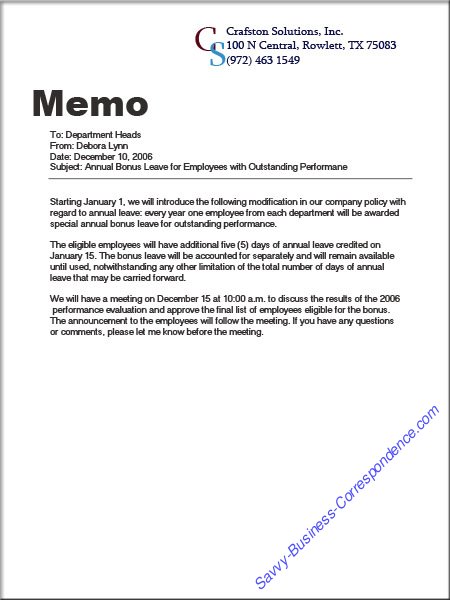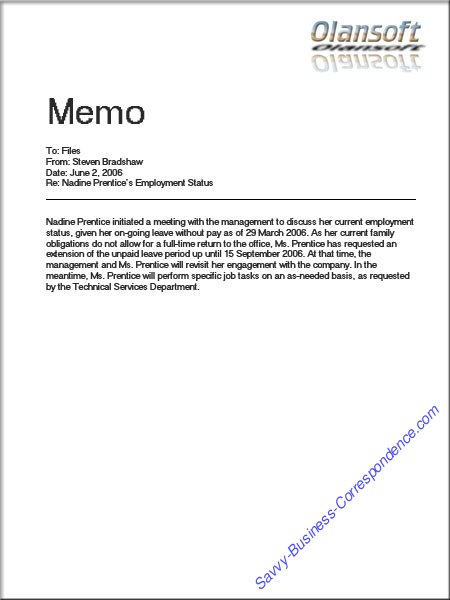 You probably have noticed that the formats of the above two memos are slightly different. Dixie has done this on purpose just to demonstrate her point that it's important to have the general format right, but at the same time there could be a lot of variations and deviations.
For instance, the company contact data in the letterhead are not as important in a memo as they are in a lettter, because memos are internal documents and usually everybody in the company knows the company address and the phone number (or at least they know where to find them, right?!).
Looking for More Samples of Different Memo Types?
Check out the following links:
1. four memo types: directive, response to an inquiry, trip report and field/lab report. This site used to have samples of those four memos, now it's just instructions on how to write them but that can also be useful.
2. the University of Florida memos to Deans, Directors, and Department Chairs from the 1995-1996 Fiscal Year to date. That's a lot of memoranda! You will find there memos on:
Investment Returns


Administrative Change


Salary increase


Change in Reimbursement Rates for Travel


Direct Deposit Policy


Cost Reduction and Efficiency Task Force
and many others. To see the memos you will need to choose different years and months from the navigation bar on the left. There are a few periods with no memos listed, so try different ones.
3. over 10 different memo samples (scroll down the list on the left to find them on the page). This site has disappeared from the net but you can still access it in the Internet archive. Memo samples are quite good and Dixie does not want the link to them to be lost and forgotten.
And if the above is not enough just google memos you are looking for, like "operational memos", "IT memos", "marketing memos" or any other type.
Should You Always Write Memos on Letterheads?
Dixie considers that memos should be written on letterhead stationery, and other business correspondence experts are of the same opinion. Sometimes companies use simplified letterheads as memos are internal documents and there's no need to include the contact information for the employees who are supposed to know where they work... unless the company has divisions all over the country or even the world.
But if you insist on not using a letterhead, Dixie would like to let you know that in such cases memo format remains the same: just use plain paper and copy the format from the memos above (excluding the letterhead, of course - you did insist on not needing it).
This is what makes memo format different from the format of business letters which always need a return address in lieu of letterhead and an inside address more often than not.
Related Topic