Meet Dixie, the First Cat-Expert in Business Correspondence
Testimonial
Thank you very much for your wise tips and explanations. I am really grateful that you make all this information available for everyone in such an entertaining yet clear way. I really appreciate the fact that you have covered even all the details that many people would consider obvious or silly and always leave unexplained, like questions of typesetting, paper, folding, margins and many more. A big hug from Argentina!
Mariano Felice
Meet Dixie Cleverelle, a very clever cat and the very first Cat-Expert in Business Correspondence. Ms. Cleverelle's goal here is to make you humans as savvy as humanly possible in this subject (excuse my pun). I am a proud owner of this prodigy cat and I pledge my word that she is a true expert in the field.
Here Dixie will introduce you to all types of business correspondence. Those of you who think they know everything there is to know about the subject will find out that Dixie possesses extensive knowledge and can pleasantly surprise even the experts by posting on this site really valuable information.
But don't just take my word on it: see for yourself. Dixie knows that if you've been involved in any business even for the shortest time you have already realized that business correspondence is a huge part of it. No matter how high or low you are on the corporate ladder, you deal with all those letters, emails, faxes, memos on a daily basis. And sometimes writing or formatting them is not as easy as you would have thought.
Dixie in Her Office
No one would argue that business correspondence is important. It is also different in different countries (Surprise, Surprise!). And there are quite a few English speaking countries in the world. By the way, Dixie would like to know if you can name all of them. Counting the ones where English is spoken as a second language, of course. Otherwise it would have been too easy, right?
So, you probably realize that Dixie had to choose one country to be able to go into detail about its business correspondence, and she decided to focus on the US. Throughout this site Dixie will also comment on some European ways where she finds it appropriate.
Dixie is sure that she can help you become savvy in business correspondence in a very short time or at least provide you with a great reference guide. Bookmark or RSS this site for future use as Dixie assures you, you will need it really often. In the long run, you will discover that Dixie can save you a great deal of time as you won't need to remember all little peculiarities of business correspondence: Dixie has them for you in one convenient place.
Getting Around
Dixie is really happy to welcome you on her site. She would like to make your experience here as pleasant as possible. And what can be more pleasant on the Internet than finding what you're looking for?! So, no matter what you want to know about business correspondence if you can't find a button for it on the left you still have three options:
Check out Dixie's Types of Business Correspondence page to see a concise description of what types of business correspondence Dixie covers on her site and find links to all major pages.


Use the SiteSearch in the upper right corner of every page to enter the keywords of the topic you're looking for.


Baffle Dixie with a question through her Contact page and see if she's up to the challenge. Or


Visit Dixie's Questions and Answers page to see if your question has already been asked by someone and answered by Dixie.


And if you are looking for letter samples, which a lot of this site's visitors do, go to Dixie's Sample Business Letter page to find links to five great letter collections with hundreds of business letter samples, you can also find a few more samples on Dixie's newest page, Business Letters: Job Search.
Dixie hopes you can see that she's got on this site something for everyone who's remotely interested in writing business correspondence or just needs to do it because his/her career depends on it.
Dixie Invites You to See Her Infographic
Below Dixie presents to you an infographic of her site. You can click on the circles to go to pages with samples of business letters, memos, emails and a fax.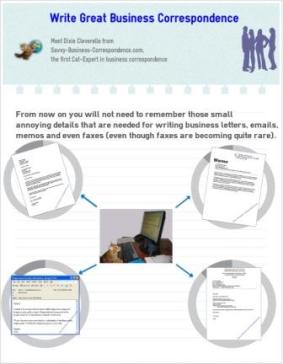 Embed the Write Great Business Correspondence Infographic on Your Site
Dixie asks you to consider embedding her infographic on your own site. To do that, just copy and paste the code below. That way, your visitors will have access to a resource for writing business correspondence the easy way.
Savvy-Business-Correspondence.com Has a Mobile Version
You can access Savvy-Business-Correspondence.com from your mobile device or a tablet. Dixie offers you a peek at it here: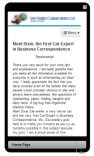 Best of Savvy-Business-Correspondence.com
Business Letters
Business Email
Email Basics page describes major elements of an email message and includes a few email message samples.
Business Memos
Business Faxes
Click the Images below to Access Samples of Business Correspondence on Dixie's Site
Business Letters
Business Email

Business Memos

Business Fax
Some Updates on Savvy-Business-Correspondence.com
Dixie has recently added two new pages to her site, business letters related to job search and to employment. You can find samples of a cover letter, resume, reference letter, job verification letter and several others there. Do check them out, especially if you are currently looking for a job.
Check Out Some Office Products Dixie Has Hand Picked for You
Dixie invites you to check out some office products that you can see all around her site. She has some cool products there, like popular tablets and laptops that you can use to write business correspondence on the go, a smartpen for digitizing your notes and audio, a digital flash voice recorder for those who prefer to dictate their correspondence as opposed to typing it, and some more. You can see some of those products below.
Link to Savvy-Business-Correspondence.com
If you found Dixie's site helpful and had a pleasant experience browsing it consider sharing it with others. Please copy the text below onto any page of your website to link to it.
You can also share or bookmark it using the buttons below:
Thank You for Recommending Savvy-Business-Correspondence.com!
Dixie and I are very grateful to those of you who recommend Savvy-Business-Correspondence.com to others. You mention this site on Yahoo Answers, eHow, forums, blogs and in other places. Thank you very much!
This site has been created for you with love and it is wonderful to know that you find it useful!